CSI Golf Tournament a Huge Success
Mon, Nov 02 2015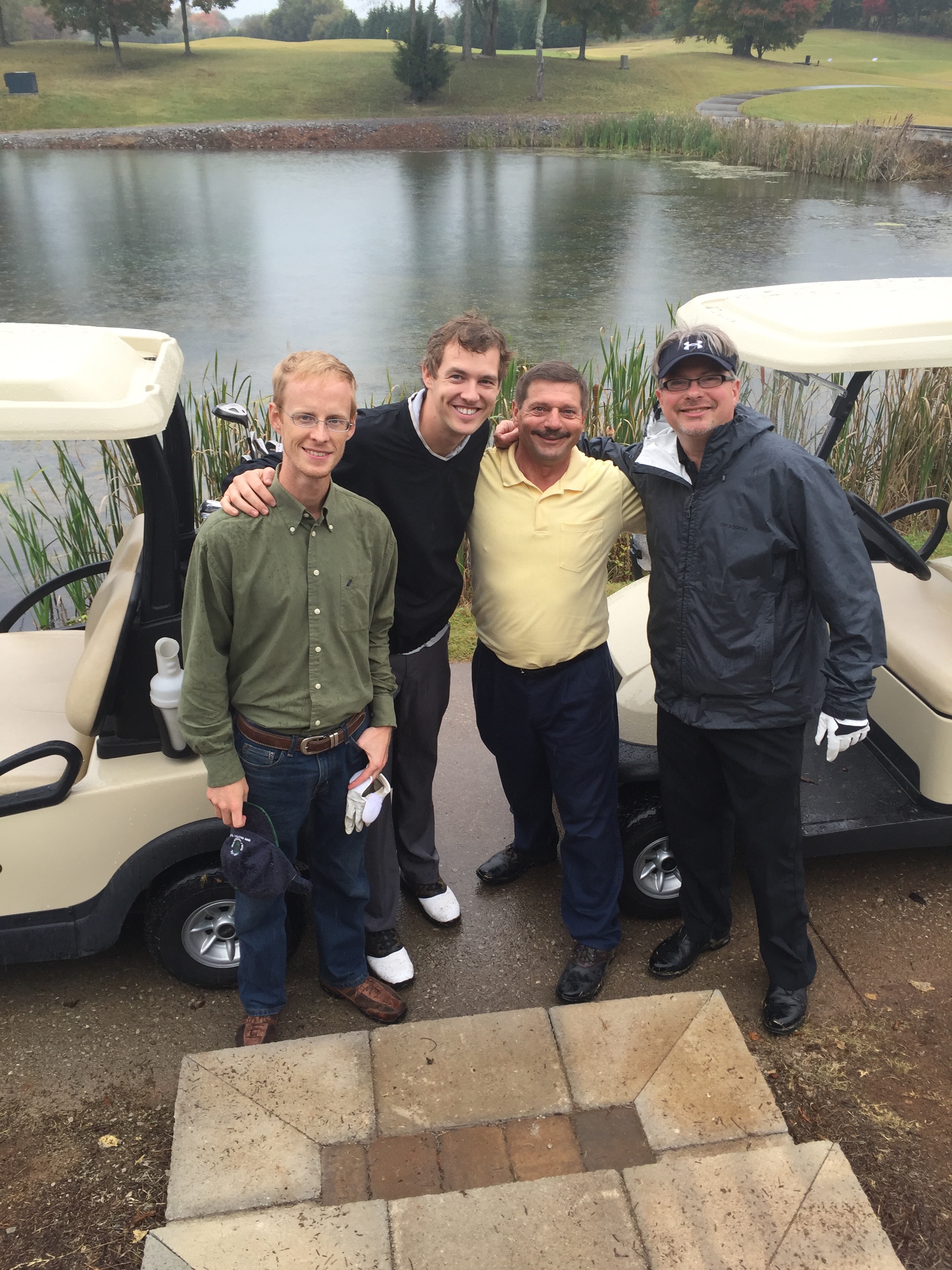 The CSI Golf Tournament was held again this year at beautiful Willow Creek Golf Course on October 26.
After a warm lunch in the clubhouse, over 70 players headed out at the shotgun start at 12:45 and braved the overcast skies. It turned out to be a perfect fall day for golf. On the 15th tee, the Sheriffs Department had an opportunity for $10 to take advantage of the 515 yard par 5 challenge by exchanging your Tee shot for a shot off an AK-15. With a little firepower, the balls sailed over the lake and landed 150 yards away. There are lots of photos of our golfers with their assault rifle tee shots. And the winners are: First Flight : 1st place - the Wakefield Corporation team [Grant Bryant, James Vandergriff, Wayne Palmer & Jeff Kenley] with a 53 with the Merit Construction team [Wes Crow, Kent Everett, Doug Heffron & Chuck Severance] sporting a 55 and grabbing 2nd. Second Flight: 1st place - General Shale & Sherman Dixie team [Lukas Salyer, Josh Brock and Tim Owens] with 63 shots. The Hiwassee Window and Door team [Sam Ledford, Josh Stephens, Phil Crawley & David Francis] tied that score and took 2nd. Closest to the Pin, which was sponsored by SESCO Lighting, Home Choice and Hiawasee Window and Door, was won by James Vandergriff on hole # 6 with a 4''''-8" spread and on hole #14 a 5''''-8" distance gave Bob McCoy the win. The longest drive, which was sponsored by CFI Insulation on #3, was won by Austin Whaley, and by Dustin Davis on #12, which was sponsored by Otis Termite and Pest Control. Thank you so much to the volunteers who worked hard to put the event together under the leadership of Wes Crow and Josh Brock. The drink cart was manned by Bobby Davis and Susan Davis and sponsored by Gillman Services and the Labor Exchange. We want to thank all our other hole sponsors that helped to make this event possible: CFI Insulation, Dupont / TYVEK, Carlisle-Syntec, Advent Electric, Hoffman & Hoffman, J&F Mechanical, SESCO Lighting, Harrison-APAC, Associated Fire Services, Whaley & Sons, Johnson & Galyon, Superior Steel, Ingersoll Rand Company, Gwynn Sales / Take Access Flooring, Clancy Custom Millwork, TIS Insurance, Baird & Wilson Sheet Metal, Glenn E. Mitchell Concrete, Dixie Roofing, White Realty, Merit Construction, American Refrigeration, Kelso-Regen, Shoffner / Kaltoff, Scotts Plumbing, Shoun-Allen Masonry, ABG Caulking, W.S. Trimble, SKYCO Staffing Services, United Elevator Services, Rayco Restoration, and Castone And always we want to express our appreciation to the excellent staff at Willow Creek who have been so accommodating to hold our tournament year after year. See you next Fall!