CSI Field Trip to Blount Mansion!
Thu, Jan 03 2019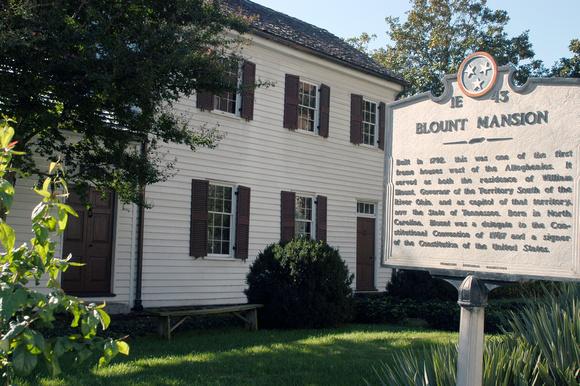 The Blount Mansion Tour
Presented by David Hearnes,
The Blount Mansion Facility Director
Tuesday, January 8th, 2019
at Blount Mansion Visitor's Center
Presentation: 12:00 p.m. – 1:00 p.m.
Free Hour Tour: 1:00 p.m. – 2:00 p.m.
CSI continues to offer you another quality learning opportunity "The Blount Mansion Tour" Presented by David Hearnes, The Blount Mansion Facility Director.
Our typical CSI Knoxville Chapter Meeting will be held at a different location for just this month. We will not be meeting at Calhoun's. Please join CSI Knoxville for a Field Trip to Blount Mansion, the "house with many eyes"! Built in 1792, by William Blount, the Governor of the Territory of the United States South of the River Ohio. The facility director, David Hearnes, will present the story of the preservation, restoration and ongoing maintenance challenges of the Blount Mansion and its neighbor the Craighead-Jackson House.

The program will start promptly at 12:00 pm on January 8th, 2019, at the Blount Mansion Visitor's Center. The lunch and LU/HSW accredited portion of the presentation will be the first hour. Following the presentation we will have an additional hour of full access to explore both houses on our own. We understand that, business sometimes calls us back to the office sooner than we'd like, so some may not be able to stay for the 2nd hour. Noteworthy: The Craighead-Jackson house is not usually open to the public. There will be a lot of ground to cover in one hour. Please wear comfortable walking shoes.
In this 1-hour presentation we will cover the following Learning Objectives:
1.) Explore traditional building techniques and their continued use today, such as timber framing.
2.) Analyze the successes and failures of preservation in the built environment today.
3.) Discuss strategies for how to approach built environment preservation and how to identify character defining features and why that matters.
4.) Explore ways good infill design benefits historic neighborhoods.
WHERE: Blount Mansion Visitor's Center, located at 212 W Hill Ave, Knoxville, TN 37902, Corner of S. Gay St and W. Hill Ave. https://goo.gl/maps/V1F2HV665g82
PARKING: Visitor parking is available at the Blount Mansion Visitors Center, behind Blount Mansion. Additional parking is available on Hill Street, but the easiest parking will be in the Dwight Kessel Garage, 900 State Street, (corner of State and Hill) just across the street from Craighead-Jackson House for a nominal parking fee. http://www.blountmansion.org/visit/visit.html
CREDITS: 1 AIA HSW/LU
LUNCH: Lunch will be provided by CSI and is catered by Calhoun's.
COST: CSI Members: Free. First-Time Guest: Free. Returning Guest/Non-Members: $20
RSVP: Seating for the lunch and presentation is limited to 35 participants and RSVP's are important for this event. Please RSVP to William Dunklin at wdunklin@gmail.com or (865) 525-6322, ASAP.