CSI KNOXVILLE CHAPTER CHRISTMAS PARTY & AWARDS CELEBRATION
Wed, Dec 05 2018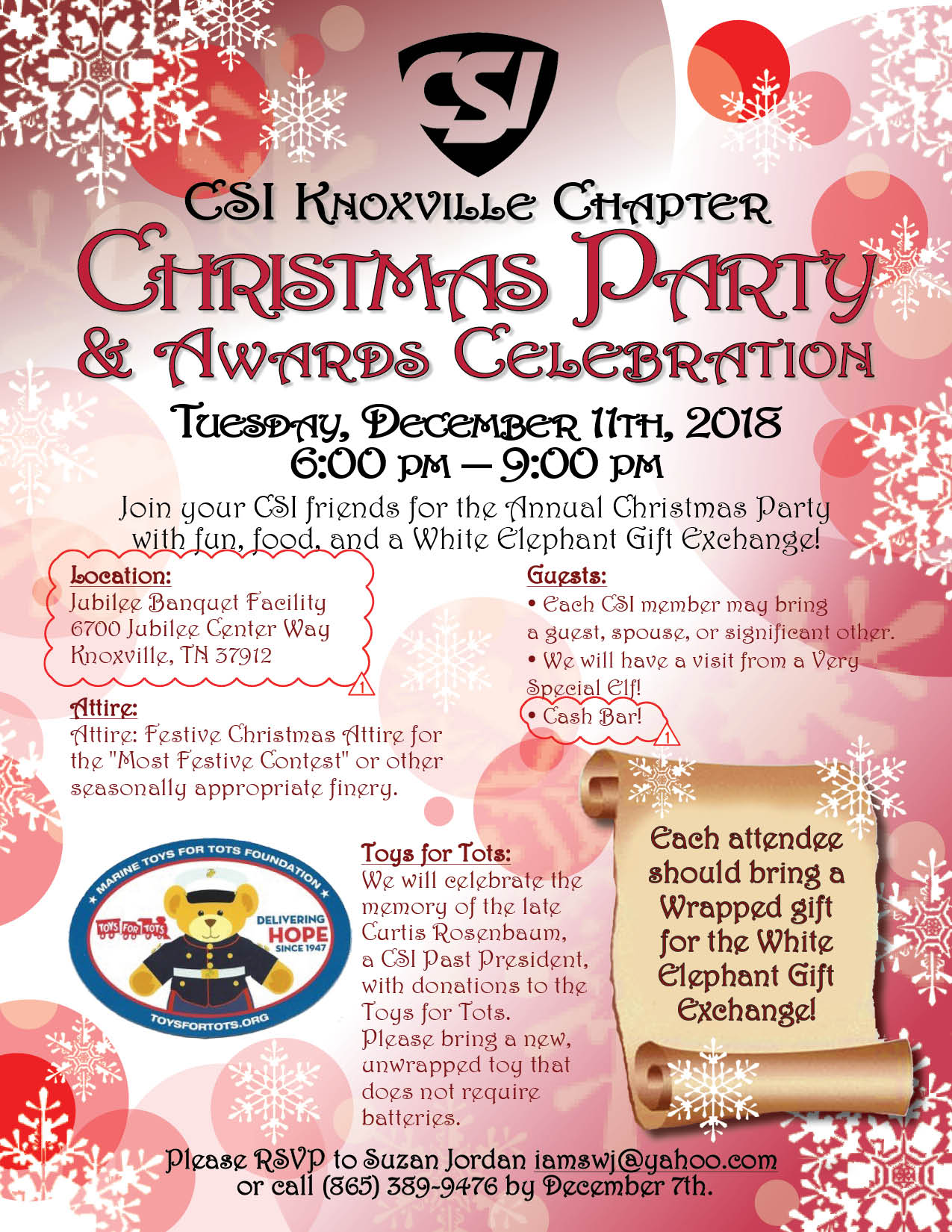 CSI Knoxville Chapter
Christmas Party & Awards Celebration
Tuesday, December 11th, 2018
6:00 pm – 9:00 pm
Join your CSI friends for the Annual Christmas Party
with fun, food, and a White Elephant Gift Exchange!
Revision 1:
*Please Note the following changes for the Party Plans:
Change of location: The party has moved to the Jubilee Banquet Facility
There will be a Cash Bar instead of BYOB.
Location:
*Jubilee Banquet Facility
6700 Jubilee Center Way
Knoxville, TN 37912
Attire:
Attire: Festive Christmas Attire for the "Most Festive Contest" or other seasonally appropriate finery.
Guests:
• Each CSI member may bring
a guest, spouse, or significant other.
• We will have a visit from a Very Special Elf!
• *Cash Bar!
Toys for Tots:
We will celebrate the memory of the late Curtis Rosenbaum,
a CSI Past President, with donations to the Toys for Tots.
Please bring a new, unwrapped toy that does not require batteries.
White Elephant Gift Exchange:
White Elephant game derives its name from the term white elephant as defined by something of dubious or limited value or an object no longer of value to its owner but of value to others. Thus, in its basic form the game calls for people to bring "gag" gifts or gifts they received that they have no use for anymore!
Please RSVP to Suzan Jordan iamswj@yahoo.com or call (865) 389-9476 by December 7th.