East Tennessee Building Products Show
Posted: Tue, Mar 08, 2022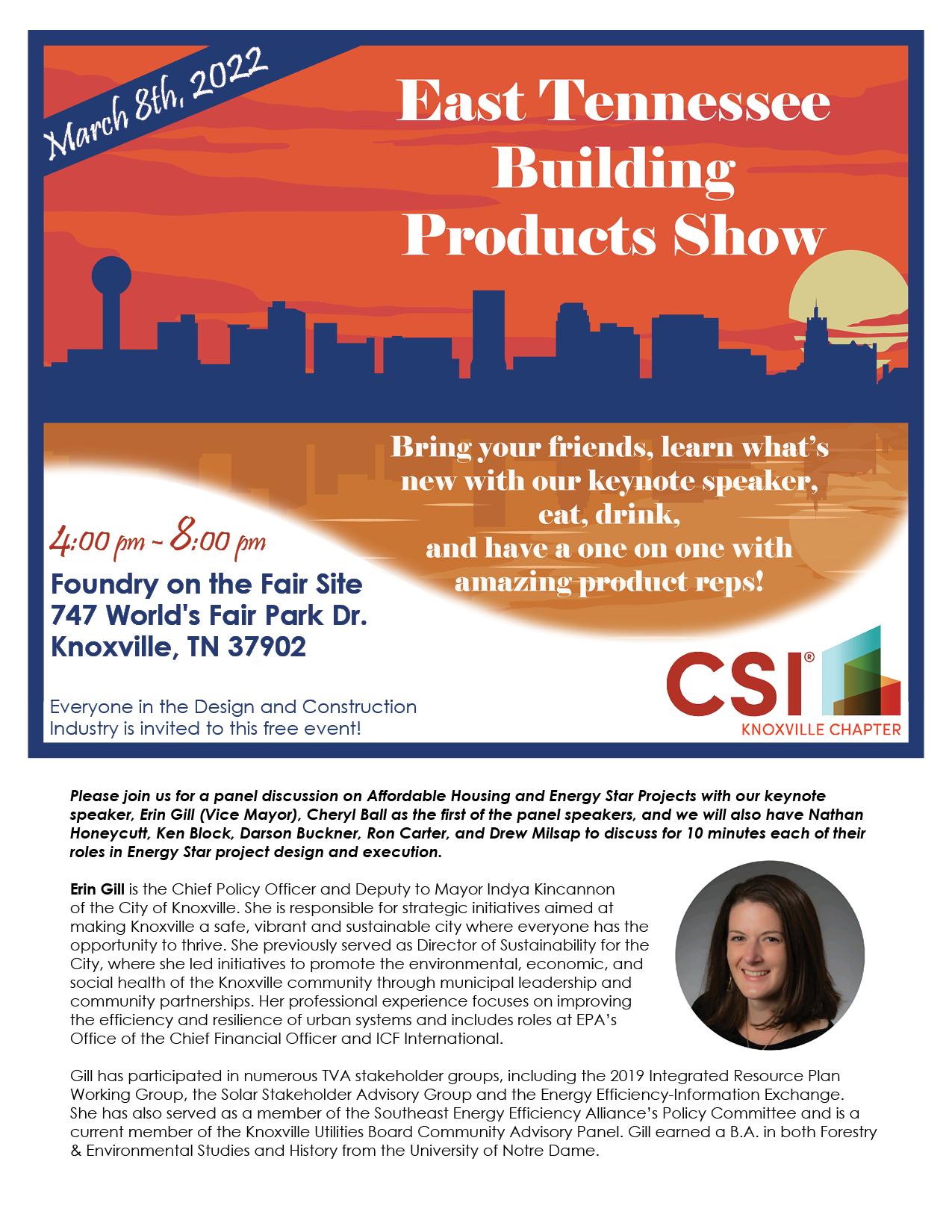 Please join us for a panel discussion on Affordable Housing and Energy Star Projects with our keynote speaker, Erin Gill (Vice Mayor), Cheryl Ball as the first of the panel speakers, and we will also have Nathan Honeycutt, Ken Block, Darson Buckner, Ron Carter, and Drew Milsap to discuss for 10 minutes each of their roles in Energy Star project design and execution.
Erin Gill is the Chief Policy Officer and Deputy to Mayor Indya Kincannon of the City of Knoxville. She is responsible for strategic initiatives aimed at making Knoxville a safe, vibrant and sustainable city where everyone has the opportunity to thrive. She previously served as Director of Sustainability for the City, where she led initiatives to promote the environmental, economic, and social health of the Knoxville community through municipal leadership and community partnerships. Her professional experience focuses on improving the efficiency and resilience of urban systems and includes roles at EPA's Office of the Chief Financial Officer and ICF International.
Gill has participated in numerous TVA stakeholder groups, including the 2019 Integrated Resource Plan Working Group, the Solar Stakeholder Advisory Group and the Energy Efficiency-Information Exchange. She has also served as a member of the Southeast Energy Efficiency Alliance's Policy Committee and is a current member of the Knoxville Utilities Board Community Advisory Panel. Gill earned a B.A. in both Forestry & Environmental Studies and History from the University of Notre Dame.