Knoxville Chapter Planning Meeting - A Great Success!
Posted: Sat, Jul 20, 2019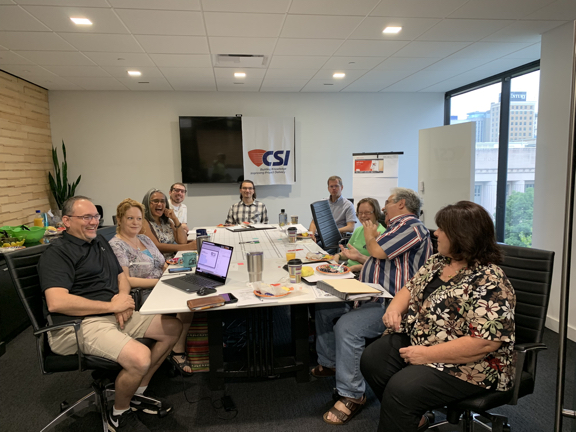 The Annual Planning Meeting was held Saturday, July 20 at the offices of MHM. In attendance were President Geoffery Cavalier, Past Presdident Aaron Miller, incoming Secretary Kathryn Fuller, GSR President Suzan Jordan (who has LOTS of roles in our chapter too), Gary Bergeron (board member, technical and academic affairs chair), new board members Josh Buchanan and Brian Sickles, Stacy Colbaugh (our award winning Publication chair), Kathy Proctor (board member, planning & historian) and new member Mirelys Calise, who is assisting with graphics. Geoffery led us through an analysis of last year activities, a review of our mission, discussions of effective ways to use our volunteer time, task teams, setting key calendar dates, and a brainstorming session addressing membership growth and student support. All in all, it was a great meeting and we are off to a great start for another successful year.
We did identify a few areas that could use some new volunteers, so please contact Geoffery and see where you can be part of the CSI Knoxville action this year.