Joint Meeting with CSI Knoxville & Masonry Institute of TN
Tue, Feb 12 2019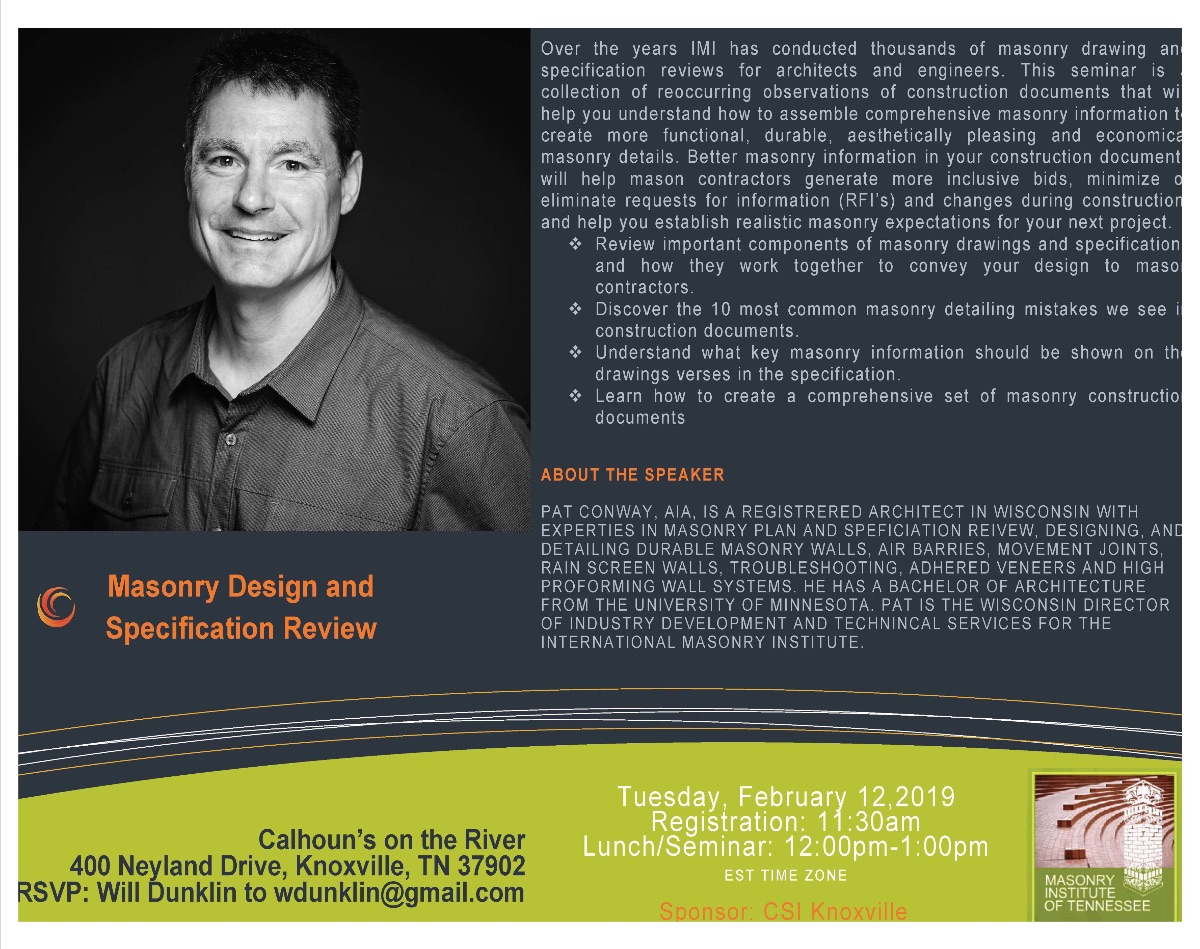 CSI Knoxville is hosting the Masonry Institue of TN
Calhoun's on the River
Tuesday, February 12, 2019
Registration: 11:00am
Lunch/Seminar: 11:30am – 1:00pm
Over the years IMI has conducted thousands of masonry drawing and specification reviews for architects and engineers. This seminar is a collection of reoccurring observations of construction documents that will help you understand how to assemble comprehensive masonry information to create more functional durable, aesthetically pleasing and economical masonry details. Better masonry information in your construction documents will help mason contractors generate more inclusive bids, minimize or eliminate requests for information (RFIs) and changes during construction and help you establish realistic masonry expectations for your next project.

Review important components of masonry drawings and specifications and how they work together to convey your design to mason contractors.
Discover the 10 most common masonry detailing mistakes we see in construction documents.
Understand what key masonry information should be shown on the drawings verses in the specification.
Learn how to create a comprehensive set of masonry construction documents.

Speaker: Pat Conway, AIA Tuesday, February 12, 2019 Registration - 11:00am Lunch/Seminar - 11:30am-1:00pm (EST) Calhouns' on the River 400 Neyland Drive, Knoxville, TN 37902 RSVP- Email to: Will Dunklin: wdunklin@gmail.com Info about the Speaker Pat Conway, AIA, is a registered architect in Wisconsin with expertise in masonry plan and specification review, designing and detailing durable masonry walls, air barriers, movement joints, rain screen walls, troubleshooting, adhered veneers and high performing wall systems. He has a Bachelor of Architecture from the University of Minnesota. Pat is the Wisconsin Director of Industry Development and Technical Services for the International Masonry Institute.